9/23.2010 Update:  A second photo (posted below) was made public since this post was sent out.
The bible says that thou who is without sin should cast the first stone.  I wasn't planning to cast any stones on a heap that is already big enough in the case of the alleged Bishop Eddie Long Scandal.  And then I saw this photo posted by ABC News.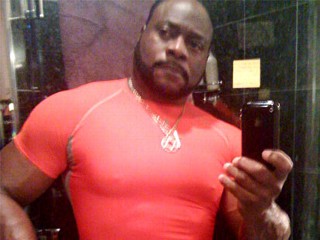 Um…really?  Bathroom stall photo?  Um…the people I know who take bathroom photos are in their twenties or teens.  Why would Bishop Long send this photo to a young man?  I don't know about you, but if this was a series of photos, I would expect to see a penis in the photos.  It's a bathroom amateur photo session, so I don't think that's a stretch.
On the ABC News site the caption for the photo says…
"An undated photo provided by B.J. Bernstein, lawyer for Maurice Robinson and Anthony Flagg, allegedly shows Bishop Eddie Long, accused in a lawsuit of coercing Robinson and Flagg into a sexual relationship. Bernstein has promised that she has photos, texts and e-mails that show a relationship between her clients and the bishop."
Today, a third accuser has come forward and Bishop Long is scheduled to do an interview tomorrow morning with Roland Martin. This doesn't look good. I'm waiting to see more photos, voice mails, text messages…you know…Tiger Woods all over again.  I'm not saying the man is guilty of the accusations but I'm not saying he's innocent.  He looks suspect to me in this photo.  That's what I'm saying.
Update 9/23: UH…this is looking even worse.  The Daily Voice (via ABC NEWS) posted the full version of the photo above and this new picture of Bishop Eddie long in an Under Amour muscle shirt and tight biking shorts.  Sigh!!  I again I ask why would you send this type of photo to a young man for whom you are spiritual mentor.  Were you doing P90X together?